BSM-Specific Requirements
Part 1: Before you Enroll (Updated 7/11/16)
This presentation explores issues to think about before enrolling as an ASM student in the National College of Midwifery, incluing:
What is NCM?
Is NCM right for me?
Direct –Entry Midwife vs. Nurse Midwife
Pathways to licensure
Future career
Prerequisites
Finding preceptors
Financial Considerations
Foreign Students

Setting up your program of study:
Watch the NCM Orientation Video Part 2: Getting Set Up
Explore your program on this website.
Carefully review the instructions and program requirements in the NCM Handbook.
Meet with your preceptor/student to finalize scheduling and time-line for instruction and completion of the program. Please utilize the instructions and tools on our Plan of Completion page on this website
Set-up a Student/Preceptor Binder
Part 2: Getting Set UpThis presentation includes information on:

Plans of Completion

Student/Preceptor Binder

Scheduling time to meet regularly with student/preceptor

Establishing roles and rules
Organization
Keeping Track of Your Work
Create a Student Binder to keep track of all your important paperwork.


Include all the record-keeping forms above. It is also recommended to keep all College-related and backup paperwork such as Contracts with NCM and Preceptors, Correspondence with NCM and Preceptors, copies of any required client charts, NCM Instructions, etc.
End-of-Trimester Submissions:
Part 3: Trimesterly Submissions
NCM Trimesters
Using NCM tools to keep track of your work
Student-Preceptor Evaluations
Academic Grades
Clinical Record Forms
NARM Skills Forms
Other Items to submit to NCM
The student submits work to NCM at the end of each trimester the student was active.(See NCM Trimester Dates on Calendar)
Submissions should be made to NCM in one packet by regular mail
Student should submit photocopies, and keep the originals for her/his files and to continue to update as he/she proceeds through the program.
Student Name should appear on every page submitted.
New Preceptor Verification signatures with current date must appear on all official forms.
Work done prior to enrollment, or with someone who is not the student's official NCM preceptor at the time the work was done will not be eligible to satisfy program requirements.
Always use the most updated versions of all program materials. These are available for download from the NCM website

Items to Submit to NCM at the end of each trimester:

This form is required at the end of each trimester in which the student was active. An evaluation form must be completed with each preceptor with whom the student worked during that trimester for any work the student turns in.
The completion of Student-Preceptor Evaluations by the student & preceptor provides the opportunity to:
1. Articulate accomplishments and problems in your teaching or learning.
2. Voice satisfactions and challenges with one another.
3. Review your goals and develop plans for the coming trimester.
Students and preceptors are encouraged to submit comments and suggestions at any time. Additional optional forms are available to facilitate this:
~Credit Value Assessment
~Evaluation of Services and Policies such as student admissions criteria, program resources, facilities, and services.
~Participation in comprehensive Curriculum review, development, implementation and evaluation.
~Other suggestions and comments.
~Notification to the College of changes in student /preceptor contact information.
please note: All NCM courses have a required paper: The student must research, prepare & present a summary of current best midwifery care/practices appropriate to a topic covered in this course from a current journal article/study, less than 5 years old
Watch the Video: Completing Academics

Part 4: Completing Academics
NCM's Academic Requirements
Modules
Course Syllabi:
Title, Credit Value, Course Description,
Learning Activities and Learning Objectives,
Accessing Learning Resources
How to Complete an NCM Academic Course
Teaching Sessions
Evaluation Methods
Documenting Completion

Choose a course to complete and download the course Syllabus
Please see special requirements for instructors of general education courses (non "MW" courses)
Student reads the resources and answers the learning objective questions
Student presents the answers to the preceptor
Preceptor & student discussion of the answes with ties to actual clinical practice
Preceptor Grades Course using Evaluation tools and rubrics Only preceptors have access to tests and answer keys (please contact the office for login information)(grade must be 80% B- or higher) to pass
Preceptor fills in the grade and trimester of completion on the Student Record

The Preceptor verifies the accuracy of the student record and grades with a dated verification signature at the bottom of the page (must be re-signed and dated by preceptor every time it is submitted to NCM).
NCM requires letter or number grades. Please note: NCM discourages Pass/Fail grades as they will not be calculated in GPA.
Please review the NCM Handbook/ Catalog and the individual course syllabus for more information on grading, transferring-in credits, course numbering, course credit, etc.
Watch the Video: Completing Clinicals

Part 5: Clinicals
NCM Clinical Forms
General Instructions
Trimesterly Reporting
Verifying Documentation of Clinical Experiences
Clinical Order of Completion
Clinical Credit
Experience in Specific Settings
Clinical Time Frames
Clinicals as Observer, Assistant and Primary Midwife Under Supervision
Definitions of Active Participant, Mastery, and Direct Supervision

Read the instructions on the bottom of each clinical page
Fill in all clinicals completed to the appropriate level of as soon as complete in chronological order.
If you have more than the minimum required number of clinicals of any one type, finish one form before starting another (NCM lists all contact hours for clinical experience on the student record, but gives credit only for requirements).
Preceptor signs each entry (arrows, quotes, lines, initials are NOT acceptable).
Student and Preceptor initial client charts (see Guidelines for Verifying Documentation of Clinical Experience in NCM Handbook).
NARM Skills:
All 151 NARM Skills must be completed on one single 4-page form
The student reads how to complete each skill in the"Practical Skills Guide for Midwifery" by Weaver and Evans.
The preceptor demonstrates the skill.
The student practices the skill.
Once the student has achieved Mastery of the skill the preceptor signs and dates each individual skill on the form (arrows, quotes, lines, initials are NOT acceptable).
Several skills require separate evaluations by two different NCM preceptors.
There are several other requirements that will have to be sent to NCM to complete the program. Among these are:
Photocopies of student CPR and NRP certifications,
Practice Guidelines (must be submitted on CD)
Emergency Transfer Form
Informed Consent Form
Membership in a Midwifery or health-related organization /OR attendance of a meeting in one of these organizations.
Other- see graduation requirements
Several projects completed in each of the the BSM-Focus courses must be submitted to NCM as part of a portfolio. These items are listed withing the Course Syllabi. Once they are completed and approved by your preceptor, you may submit these to NCM through Dropbox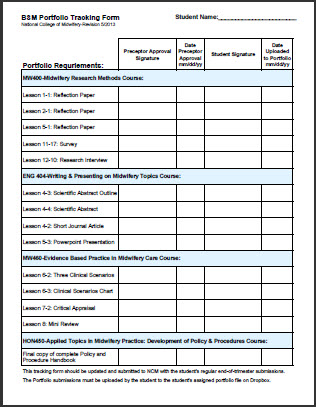 This requires 1 clinical year past licensing or certification to include 10 births mentored by preceptor chart review. This requirement may be completed concurrently with enrollment in the BSM program. The BSM candidate thoroughly evaluates her/his anticipation of possible risks and provision of all areas of care for each of the 10 clients, identifies problems, and implements changes in her/his practice and methods to improve future care.The BSM candidate and mentoring preceptor together complete a chart review for each of the 10 births.
This is a Chart Review-The mentoring preceptor(s) need not attend the births.
1. Follow the Syllabus for 10 Mentored Births on the NCM Disc or NCM website.
2. Complete Form MW480-A: Chart Review Checklist for each of the 10 client charts
3. Complete Form MW480-B: Chart Review Objectives for each of the 10 client charts
4. Enter each completed chart review on Form MW480-C: Summary of Chart Reviews
5. Submit photocopies of these completed forms to the College at the end of each trimester


Ensuring that the work you do will count towards NCM program requirements
NCM Update 2016-

once you have viewed this video, please click here to complete the questionnaire
Create your own user feedback survey

Information subject to change-please always refer to the updated NCM Handbook